Location Hours
Branch Hours
Monday

09:00 AM - 05:00 PM

Tuesday

09:00 AM - 05:00 PM

Wednesday

09:00 AM - 05:00 PM

Thursday

09:00 AM - 05:00 PM

Friday

09:00 AM - 05:00 PM
Drive-Thru Hours
Monday - Friday
09:00 AM - 05:00 PM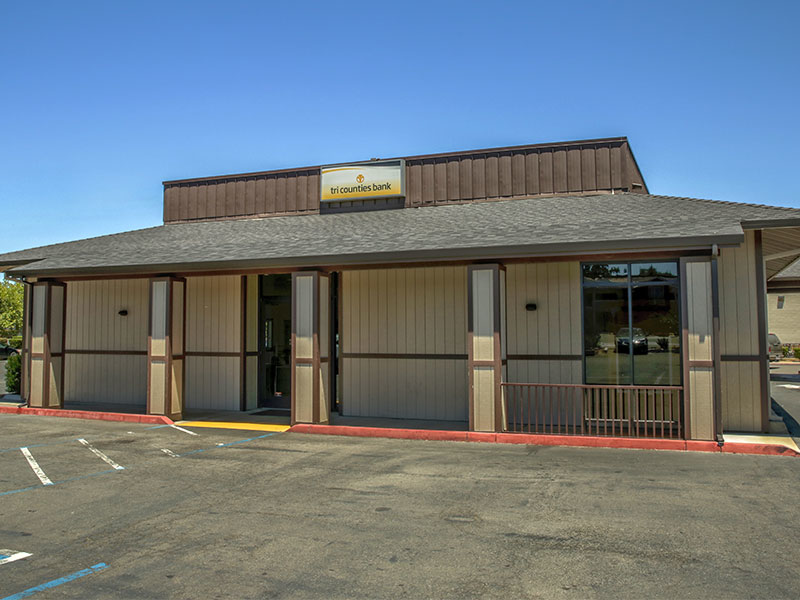 About this location
Established in 1975 and headquartered in Chico, California, Tri Counties Bank provides a full range of personal, small business and commercial banking solutions. In addition to an extensive branch network, Tri Counties Bank provides convenient access to its products and services with locations throughout California, advanced Mobile and Online Banking, and a nationwide network of approximately 40,000 surcharge-free ATMs.
Customer Reviews

Wonderful bank. New ATMs and drive up teller.

Very professional and helpful staff. I started direct deposit since Covid 19 so I haven't been in there for awhile but miss the friendly faces and Jocelyn waving at me from afar.

Returned here after over 10 years of dealing with other banks. Best decision.

Darn it you mixed food with your papers. Chopped chopped. No more more tried fire of my time.

Wonderful, friendly people that are there to help me with all my financial needs.