Location Hours
Branch Hours
Monday

09:00 AM - 05:00 PM

Tuesday

09:00 AM - 05:00 PM

Wednesday

09:00 AM - 05:00 PM

Thursday

09:00 AM - 05:00 PM

Friday

09:00 AM - 05:00 PM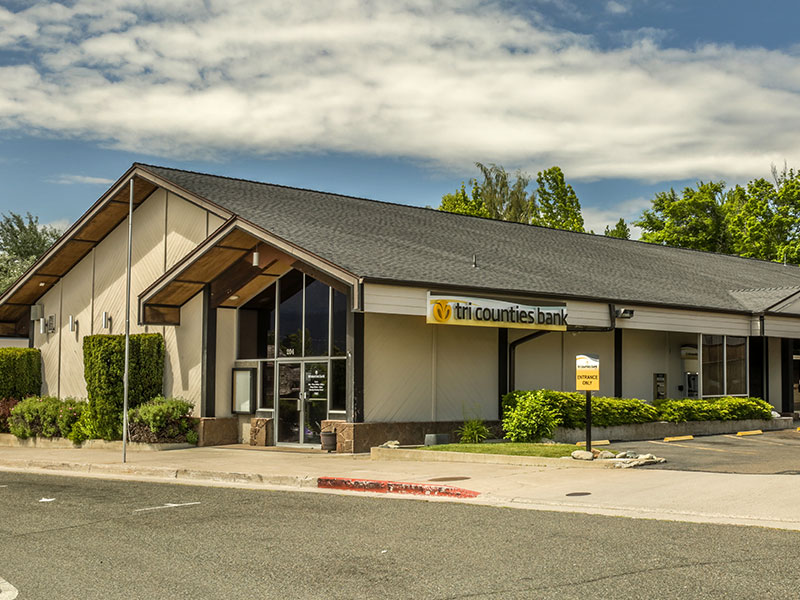 About this location
Established in 1975 and headquartered in Chico, California, Tri Counties Bank provides a full range of personal, small business and commercial banking solutions. In addition to an extensive branch network, Tri Counties Bank provides convenient access to its products and services with locations throughout California, advanced Mobile and Online Banking, and a nationwide network of approximately 40,000 surcharge-free ATMs.
Customer Reviews

The Manager there is Top Notch. He has assisted me two times with a couple of issues was very Professional and a Real Help. The tellers are friendly also! Keep up the Great Work there Crew!

We have accounts up in Mount Shasta because in a few years we are retiring up there and will be building a house. Every need I have has to be done over the phone because we live 5 hours away. TCB customer service is the BEST ever…always. Bank employees are knowledgeable, friendly and so helpful! I am so glad we chose TCB to establish financial history in Mt. Shasta. I love everything about this bank! 5 stars all the way!

Great customer service! Barry made moving my accounts to Tri Counties Bank easy.

After being unable to open accounts at other local banks we were delighted to find this bank is open for business, you can walk in during business hours and find social distancing, mask wearing employees graciously waiting on customers, after a refreshingly short wait. The staff made the whole experience stress free. The level of service is above and beyond.

Always friendly and helpful!